Over six decades of on-the-job knowledge
Backed by three generations of proven, trusted service and experience and a longstanding team of loyal staff and local suppliers, we understand the changing landscape of New Zealand home building. As one of the oldest and largest residential developers in New Zealand, Universal Homes has been at the forefront of residential design and build development in New Zealand for over three generations. We are extremely proud of our heritage designing and building tens of thousands of high-quality homes across dozens of popular locations. Our long history showcases our strong experience, reliable reputation, commitment to continuous construction innovation and the latest building materials, value for money, and future-focused building solutions – all hallmarks of the way we have worked since those early days.
Meeting the needs of first home buyers
Established by lawyer and property developer Wilfred Allen "Bill" Subritzky QSM on August 1, 1959, Universal Homes focused from the beginning on meeting the needs of first home buyers. Subritzky remained at the helm of Universal Homes for almost 30 years, by which time the company had built more than 14,000 homes. Subritzky went on to be awarded the Queen's Service Medal for Community Services in 1991. Since its inception, the key principles of building quality homes, providing value for first home buyers, and a core commitment to the customer have held as true then as they still do today.
One of the very first homes built by Universal was Subritzky's large home with coastal and sea views in Lynfield/Mt Roskill, known as 'Tropicana', designed by architects McLachlan and Stemson. The home and wider property was sold in 2014 to Ryman Healthcare and is now the Murray Halberg Retirement Village.
Early land development and residential construction
In the 1960s, Subritzky was instrumental in establishing Avondale as a residential area. Land development combined with house construction was the focus of those first developments, as it still is. During those early years, Universal Homes designed houses to suit the location and the needs of the buyers of the day.
Many of Universal's first houses still stand in Avondale, a testament to the company's solid building techniques. Those initial homes were single-level standalone homes on large plots of land. Universal's first offices were situated on St Georges Road in Avondale. In the early 1970s as the company grew, Universal moved offices to 85 Airedale Street, in the heart of Auckland city.
During the 1970s Universal Homes built across many sites in West and South Auckland, including the suburbs of Ranui, Swanson, Clendon, Mangere, Papakura, Pukekohe, and Flat Bush. Homes were predominantly standalone fibrolite constructions, situated in the centre of large sections of land, often up to 500m². These homes were mainly built for first home buyers. Universal also undertook developments out of Auckland during this time, including in Waiuku, Rotorua, and Hamilton.
Graham Street commenced working at Universal at the end of the decade, working for the company from 1979 until his retirement in 2020 (and as CEO from 1997).
"New Zealand's most skilled family home builder"
The focus on first home buyers continued during the 1980s. Universal Homes developed suburbs and built at many locations including Ranui, Henderson, Manurewa, and Papatoetoe, with a focus on situating homes close to local schools, shops, and public transport – ideal for the customer base of young families. During the 1980s Universal offered a hugely popular package called "walk right in", where customers could rent from Universal for six months before the rent was transferred to the house deposit. 
Turnkey house and land packages
The 1990s brought a change of model and building style for Universal homes, based on the contemporary Australian brick and tile model with an internal access garage from AV Jennings. This change in direction for the company from contract builds to 'turnkey' house and land spec packages was implemented widely from 1993. This signalled a shift to pre-planned and designed homes that were sold during construction, differentiating Universal from competitors. It also offered the opportunity for first home buyers to save during the construction of their new home.
In September 1997 the Universal Homes head office moved to the North Shore and our present-day offices in Bush Road, Albany.
Many large-scale projects in West and South Auckland were realised in the 1990s, including Universal playing a key role in the building boom in East Tāmaki and Manukau. From 1992, Northwood and Brookfield Park in Albany were also major locations, where buyers could choose from a selection of plans, or personalise their own. Universal Homes built the first duplex and two-storey homes at locations such as Temuka Gardens in Blockhouse Bay from 1998, as the focus began to shift towards building homes with a smaller land footprint to retain affordability for first home buyers.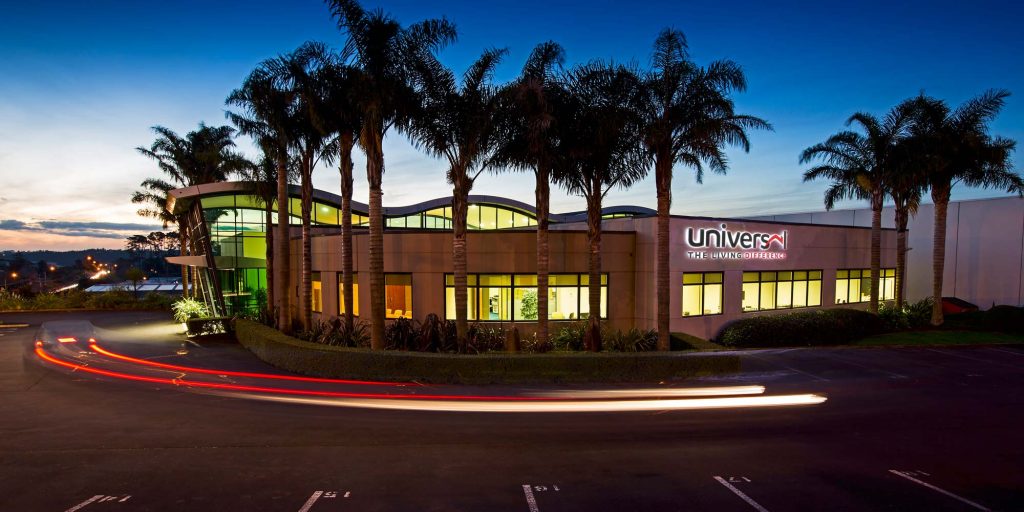 The 2000s saw standalone homes built across a number of locations stretching the breadth of the city limits and beyond, including large developments at Gulf Harbour, Millwater, Totara Views in Silverdale, Greenhithe, Lake Panorama in Waitakere, and a number of locations in Albany, including Atherton Heights in Pine Valley (pictured).
During this decade, standalone homes were built on smaller single sections. A shift in materials came in 2007, with a move to brick and weatherboard home exteriors. Later developments came at Karaka Lakes in South Auckland, Matua Crest in Huapai, Long Bay on the North Shore, Pauanui, and Tauranga.
Universal undertook bespoke design and build projects until 2010, winning a number of awards for the homes constructed to clients' unique briefs. Design and build projects locations included Ruakaka, Omaha, Mangawhai, Orewa, and the North Shore, to West Auckland.
Always with an eye to the needs of the future, Universal was the first developer to build medium-density housing at volume. The first terrace homes were built at Atherton Heights in Albany and Aintree Heights in Greenhithe from 2004, heralding a significant shift in product direction from predominantly standalone homes. This met the demand from home buyers for medium-density, well-priced quality housing that didn't sacrifice on interior space.
Terrace homes were developed at scale at Hobsonville Point from 2010. Universal was the first developer to build at Hobsonville Point, working on the largest comprehensive master-planned development to date at that point by the company, in partnership with Hobsonville Land Company. Just under 1,000 architecturally designed homes were built over the following decade for the Hobsonville Point community.
A contemporary master-planned community begun in 2018, West Hills is Universal's latest and largest location to date. Designed to meet the needs of an increasingly busy Auckland, West Hills will eventually encompass over 1,400 homes, with further stages to be built in the coming years including parks and walkways. The rich heritage of market gardens and strawberry fields in the area informs the planning and streetscapes around the architecturally-designed, low-maintenance, quality new homes in this well-connected and popular community.
Cutting-edge build innovations
Insulated, sound-proof, and double-glazed: popular new terrace homes owed their success to robust, quality materials and a series of cutting-edge building innovations, in large part invented or implemented by Universal's team. A practice of constant trial and testing of new products and processes is a hallmark of Universal's work, with a thorough review and pricing system, before it is put in place. Universal regularly works with the wider industry to research and develop products.
From 2011 Universal adopted and played a part in developing in-slab stormwater detention tanks and on-fence water tank panels. These create more space in terrace home backyards and ensure collected water resources are used as wisely as possible, reducing water bills for customers. Universal was one of the first companies to adopt HIANDRI bottom plate packers in 2014, revolutionising the way our construction team could deal with moisture during the build process. The company was also one of the first in the industry to use James Hardie HomeRAB pre-cladding from 2014, providing increased construction efficiency and quality. KOROK high-performance wall systems for inter-tenancy sound protection and superior fireproofing were first implemented in Hobsonville Point terraces from 2016. In 2017 Universal was first in the industry to invent and implement a flooring system now widely in use called the cassette system for terrace homes at Hobsonville Point, craning pre-nailed flooring into position and saving precious time on a home's construction.
An early member of the Master Builders Association
Universal Homes was one of the earliest members of the Master Builders Association of New Zealand, the national organisation that offers the 10-year Master Builders' Guarantee on new homes that meet its criteria. Over the years Universal Homes has been recognised many times by the Master Builders Association, with numerous awards scooped at the national annual Registered Master Builders House of the Year Awards. This prestigious competition celebrating building excellence in New Zealand. It awards the best homes and builders and the craftsmanship behind them.
Always reimagining the future
Today, Universal has built over 80 substantially sized locations across Auckland and other areas of the North Island. Today's homes fuse design innovation with a focus on quality materials, stylish interiors and finishings, thoughtful orientation providing light bright interiors, and all the benefits of modern insulation, double-glazing, heat pumps, and sustainable water tank systems. A tight-knit team with a wealth of capability in residential construction management and over six decades of on-the-job knowledge remains one of the core strengths of the company. While home typologies have shifted, Universal's longevity and strong reputation in the industry is built on thorough research, a focus on innovation, a meticulous approach to quality control, close relationships with our longstanding local suppliers, and supporting our clients each step of the way.
Universal Homes used to produce hand-drawn and hand-painted large-scale renders in partnership with a local artist. This assisted clients in visualising their completed home while it was under construction. Renders were created to accompany house plans drawn up by the Universal Homes design team. These individually completed and highly detailed artworks were available to browse in Universal Showhomes, and also given to clients who purchased a home for their reference. They depicted the final completed home including surrounding landscaping, and the wider streetscape. Hand-drawn renders were produced for a number of locations including Pokeno, Matua Crest in Huapai, Millwater, and Long Bay, for a range of houses including standalone homes and terrace homes.
Since 1959, we have been trusted by thousands of first home buyers and are ready to help you through the purchase process. Our transparent processes and straightforward purchasing system ensures that we keep things easy and stress-free.
Stay in the loop with all of our latest property releases, news, and insights.