Northcote embodies an easy lifestyle: only 8kms from the CBD and handy to a plethora of great amenities including walking distance from vibrant local shopping. Living in Northcote means you're never far from your choice of retail opportunities including Smales Farm commercial hub and Shore City mall, plus the iconic Bridgeway boutique cinema, wellness centres, and tons to do in the great outdoors. Right nearby are the North Shore's beautiful beaches, plus plenty of parks and bush walks including Onepoto Domain and Little Shoal Bay Reserve. More water sports are available at nearby Lake Pupuke, while the tee beckons at Takapuna Golf Course.
Wai Manawa / Little Shoal Bay Reserve
With its stunning view over the water to Auckland Harbour Bridge and the CBD, Wai Manawa or Little Shoal Bay Reserve is a beautiful spot to be. Why not take your fish and chips along on a summer's evening! This reserve right on the edge of Little Shoal Bay invites visitors to enjoy a walk along the waterfront as they take in the views, plus there's plenty of space to find a spot for a picnic, kick a ball around with the kids, or relax and read a book lying on the grass. There's a playground, fitness equipment, an outdoor shower, coin-operated barbecue, picnic tables and seating, and even tennis courts inside the reserve. Or enjoy a bush walk close by, with paths connecting through to Onewa Road or side roads off Hinemoa Street.
Catch the ferry: Te Onewa Northcote Point and Birkenhead
If you'd prefer an overseas adventure to start your day, catch the ferry for a seaside commute to work, play, or explore the city. Getting to and from Northcote is simple: excellent public transport includes nearby ferry services from Te Onewa Northcote Point, Birkenhead, or Devonport if you're keen to head a little further afield.
As a harbour city, ferries have been a part of Aucklanders' commute for over 150 years; Northcote Point Wharf was built in 1856. Auckland ferries offer a direct and less stressful way to travel for thousands of commuters each day. They also provide a harbour experience for both locals and visitors to get out and explore Auckland, giving an opportunity to admire views of the city, and an up-close view of the Harbour Bridge and the coastline. Sit back and enjoy exploring local seaside spots, and the beauty of the Waitematā Harbour.
Takapuna Golf Course
The tee beckons at nearby Takapuna Golf Course, billed as Auckland's premiere public golf course. As one of the most played public golf courses in Auckland with over 60,000 people playing each year, the golf course is a full 18-hole course consisting of 71 strokes. Takapuna Golf Course is a great option when you feel like a round of golf, as it's conveniently located right next to the motorway, and welcomes new members. With a double-storey 48-bay driving range, an extensive practice putting green, and a well-stocked pro shop, all of your golfing needs will be covered. Golfers are invited to relax after their round at the on-site restaurant and bar.
Onepoto Domain
Northcote is home to a great range of parks, including Onepoto Domain, a crater-shaped park that was formed by a volcanic eruption 20,000-30,000 years ago. With its popular kids' cycle tracks for kids of all ages and stages to enjoy on scooters, balance bikes or bicycles, the Onepoto beginners path is a safe, sealed cycling circuit. Kids can learn to ride or increase their confidence on paths with traffic markings, a roundabout and intersections to practice turning and giving way, plus navigate bridges, jumps, bumps, and other fun obstacles. Two great playgrounds are located right next to the path, including a flying fox and a large tunnel slide. Bring your own picnic, since there are no shops immediately surrounding the park.
Explore the network of paths that connect the different areas of Onepoto Domain, including walking paths through bush areas and wetlands – home to pheasant, quail, and pūkeko. Two freshwater lakes are popular locations for operating radio control boats and model sailboats. Facilities include a drinking fountain, seating and picnic tables, toilets, bike stands, barbecues, and sports fields, making this the perfect spot for some time in the great outdoors.
Eventfinda Stadium
Just down the road, Eventfinda Stadium hosts a broad range of events. First opened in 1992, Eventfinda Stadium has been an event home to the North Shore and Auckland communities for the past three decades – first as North Shore Events Centre, and in 2016, after refurbishment and an upgrade, it was re-named Eventfinda Stadium. Foundation partners who train on-site include North Harbour Gymnastics and Harbour Basketball. The stadium has hosted rock concerts for Bob Dylan, Tool, Slayer, and many more, and has a busy calendar of events.
Browse the calendar of upcoming sporting, music and other events, use the 'book a basket' service to organise an epic spot to shoot some hoops, or hire a venue for your next sporting, entertainment or corporate event. There's always a great range of events to enjoy at Eventfinda Stadium, including Tall Blacks and Silver Ferns games, super heavyweight fights, and special interest expos.
Takapuna Beach
Northcote embodies an easy lifestyle: it's so close to your choice of beautiful beaches along the North Shore's coastline. Just 4kms away, Takapuna Beach has it all, from a long sweep of sand shaded by mature pohutukawa trees along the shoreline, to a staggering view of Rangitoto Island. There are tons of options of things to do, including the popular playground, beachside cafes and nearby bars, sailing clubs, kitesurfing, windsurfing, and kayaking, to name just a few. Pick a time for a family day out and enjoy paddle boarding across the sparkling seas, then satisfy that appetite you've worked up by enjoying the excellent array of local eateries, or a picnic on one of the many grassy spots with a view.
The Takapuna to Milford heritage walk invites you to soak in uninterrupted views of the Hauraki Gulf and Rangitoto, rock pools, and even fossils of ancient forests preserved by lava flows. Best enjoyed at low tide when the rocks are exposed and the path is dry, the walk takes you along the shoreline. Enjoy a dip en route at one of the swimming beaches along the way.
Local bush walks: Smiths Bush, Tuff Crater, Le Roys Bush
If you live in Northcote you're never far from the beach or the bush. Between them, Northcote and its neighbouring suburb, Birkenhead, have over 90 parks and reserves. Smiths Bush, Tuff Crater, and Le Roys Bush are just three of the beautiful bush walks on offer in the local area.
Smiths Bush is the perfect spot for a short, local nature escape, with an elevated looping boardwalk running through bushland. Located in Onewa Domain, just off Northcote Road, the bushwalk starts to the left of the Takapuna District Cricket Club clubrooms. The path is flat and fairly short, with seating along the way: perfect for walking, jogging, prams, younger children, and dogs on a leash.
Tuff Crater is one of Northcote's iconic landscape and geological features. The area is a recreational space for the community. The Tuff Crater walking path rings the perimeter of a mangrove-filled salt marsh volcanic crater that last erupted about 200,000 years ago. Take in views of Waitematā Harbour and Auckland city's skyline. There's seating, a viewing platform, and information about the Tuff Crater restoration project at various points along the route.
Le Roys Bush walk runs from Little Shoal Bay Reserve up to the Birkenhead shops. The trail begins alongside wetlands at the valley floor, with views out across Waitematā Harbour. The path follows the stream through bush, crossing a waterfall, and ending at Hinemoa Street. You'll be able to enjoy a wide variety of fauna and flora including kauri, tanekaha, taraire, totara, and many other ferns and plant species. The Highbury viewing platform, Kaimataara õ Wai Manawa, is located on Birkenhead Avenue and provides panoramic views of Le Roys Bush, Rangitoto and views over the Hauraki Gulf east and south across Auckland.
Shore City Shopping Centre
Northcote residents have great access to a wide range of shopping and entertainment with plenty of local options nearby, including Shore City Shopping Centre. A relaxed, intimate enclosed mall environment situated near Takapuna Beach, Shore City provides a premium shopping experience. Free car parking is on offer, along with over 60 stores and fast free WiFi. Stores cover many interests including lifestyle, health and beauty, fashion, sports and leisure, jewellery, and technology, with department stores, a supermarket, dining, cafes, a gym, and other services too. There are always offers and events to enjoy, including the Shore City Bubs Club with well-known North Shore storyteller Suzy Cato for songs, storytelling and fun learning activities.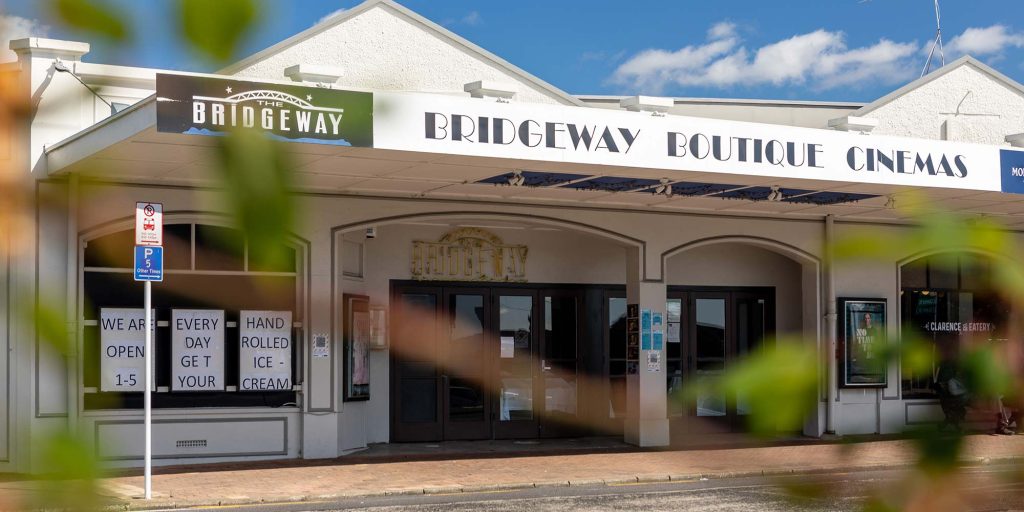 Bridgeway boutique Cinema
The Bridgeway is a unique and historic boutique arthouse cinema in the heart of Northcote Point, with great options clustered around it for a meal before or after your movie. Built in 1927 by E. and J. Fraser engineers, the building originally also housed the Waitemata Bus & Transport Company bus depot and shops. Dances, parties and fancy dress events were held after "the pictures". The old bus barn became a second cinema in 2000. Now, the Bridgeway is a four-screen cinema, and offers new release arthouse films together with upmarket commercial releases, regular special film events and festivals. In 2013, the Bridgeway was named Best New Zealand Cinema by the Australian Independent Distributors Association.
Netball North Harbour
Onewa Domain is among one of the many excellent green spaces available in and around Northcote, with standout netball and other sporting facilities on offer. Netball North Harbour sits alongside Takapuna Cricket Club, Takapuna Rugby Football Club, and Takapuna Amateur Athletic and Harrier Club. Netball North Harbour has been a community facility from its inception and is used by the general public for both netball, tennis, and more recently, volleyball. As well as outdoor courts, an indoor facility, the Onewa Arena, was opened to the community in 2011. The on-site netball competitions are the largest operation of the organisation, with school, club and social grade competitions and tournaments throughout the year. These include Primary, Intermediate and College competitions, social twilight, 5a-side, and the ANZ Future Ferns Programme. Netball North Harbour is located adjacent to the Northcote Road off-ramp off the Northern motorway with easy access to north and south bound traffic.
Smales Farm: commercial hub and eateries
Just 2kms away from our Northcote homes, Smales Farm offers a 10-hectare site in the heart of the North Shore, home to an established community of global and local businesses. The commercial hub is underpinned by an innovative and sustainable approach to place, space and people that permeates the built and shared spaces. With state-of-the-art buildings, abundant native planting, and a regular programme of events and activities on-site, Smales Farm offers something for everyone including bars, cafes, conference and event spaces, banking, medical, gym, boot camps, yoga, and community events. Great amenities on-site include Goodside – a curated collection of Auckland's finest boutique food and beverage artisans, housed in a relaxed, leafy venue. The B:HIVE is home to a contemporary, fresh way of working that enables teams of all sizes to enjoy the benefits of working in a large office without the hassle, including fit-out, furniture, fibre, and a full beer fridge.
Chelsea Estate Heritage Park and Chelsea Sugar factory
Neighbouring Northcote, the Chelsea Estate Heritage Park boasts breathtaking views of the inner Waitematā Harbour, Auckland Harbour Bridge and city centre. Enjoy a walk through this unique coastal reserve in Birkenhead that's home to the iconic Chelsea Sugar Refinery. Paths down to the coastal edge are steep but well worth exploring for the exceptional views. The George Giles Walkway offers a short side walk down to Chelsea Bay, for more spectacular views. Throughout the park there are a variety of native birds such as tūī and kererū (wood pigeon). The lakes are home to native fish including short and long-finned eels, common bully and banded kokopu.
If you're ready for a bite to eat after your walk, head to Sugar cafe. Billed as the home of baking, the historic Chelsea Sugar factory in Birkenhead is now also home to Chelsea Bay Visitor Centre and Sugar cafe. Enjoy a sweet treat as you settle into a comfy spot overlooking the Waitematā Harbour with an a la carte menu, delicious cabinet goodies, or high tea on offer. Be educated and inspired with an immersive tour of the Chelsea Sugar factory, to learn how sugar is made, taste delicious syrups, and see a wondrous sugar mountain. Iconic Kiwi brands Chelsea and Edmonds have come together to present the Edmonds Baking School, offering a range of classes for children, teens and adults with expert Patisserie Chefs, plus children's baking parties, private group baking lessons, and team building events.
Lake Pupuke
There's a great range of water-focussed leisure options in and around Northcote, with popular local spot Lake Pupuke on offer along with beautiful nearby beaches. A large, heart-shaped freshwater lake, Lake Pupuke (traditionally called Pupukemoana in Māori) occupies a deep volcanic crater (or maar). It is an explosion crater, forming a basin rather than a hill or mountain. The heart shape is a result of its formation by the linking of two circular craters, with a larger one forming most of the lake and a smaller one forming the arm in the northeast. Separated from the sea by less than 200 meters at one point, the lake has a circumference of about 4.5 kms and reaches 57 meters in depth. A wide range of water sports and recreational activities are enjoyed on the lake, including rowing, dragon boating, swimming, diving, sailing, windsurfing, and fishing. The lake is also the setting for the lakeside Takapuna PumpHouse Theatre, and a great spot for a picnic.