There are plenty of excellent local spots to grab a bite to eat right near Milldale. Select from a range of eateries, from cafés to bakeries to diners, BBQ joints, or beachside restaurants – there's a mouth-watering offering for every diner. Stroll along stunning Ōrewa beach or another of the many other local beautiful beaches, then treat yourself to something delicious nearby. Whether you're meeting friends for a leisurely meal or need something fast and fresh to grab and go, Milldale has you sorted.
Ground Control Café
For great coffee and café fare, Ground Control Café is the perfect local with a great outlook – and it's dog friendly, too. Owned and operated by a small, friendly team of local coasties passionate about creating innovative and delicious food and drinks for their community, it's a popular spot. The pretty interior with leafy indoor plants sets the scene for your meal. The eco-friendly atmosphere is a positive plus, with a display board that commits to the sustainable positive actions the café is striving to achieve. Enjoy a great range of breakfast, brunch and lunch meals, and delicious cabinet offerings. For something unique and delicious, don't miss the waffle menu. Flight coffee is served, plus discounts are offered for reusable cups, and filter lovers are catered to with bottomless filter coffee on offer. You can grab a bag of coffee to take home too, with a range of blends and single origins available to select from.
The Baker's Son Café
Offering a full selection of hot and chilled grab-and-go food, perfect for those on the run, The Baker's Son Café is a great local spot. Grab some time to hit pause and take a seat to enjoy a full breakfast, a light meal, or one of their famous signature pies. Tom and Ben, the baker's sons, are passionate about pies and have been immersed in all things pastry since they were very young, helping out their Dad in the kitchen. They make their delicious pies using quality ingredients and plenty of rigorous taste testing. Enjoy pies featuring golden brown pastry to satisfy any craving, including Kiwi classics such as mince and cheese, plus vegan offerings too. Their gourmet pies are on offer at The Baker's Son Café, as well as at supermarkets in the chilled section. Select from the single-serve range, for those moments when you have a personal pie craving or the family range, for when you have to share. The Baker's Son Café also offers a full range of catering solutions for events, to keep the team full and satisfied.
Clara Café
Kickstart your morning with great food and exceptional coffee at Clara Café, open for breakfast and brunch. Enjoy the dramatic large-scale dried floral arrangement centrepiece of the café as you walk in. Pull up a chair in a sunny spot and enjoy the pretty outlook as you sip on a hot beverage and sample something delicious. Pick from eggs, muesli, french toast, burgers, salads, or bao buns. Get in quick to ensure you don't miss out on a halloumi and mushroom pretzel baguette – they're pretty popular with the locals. Finish with a freshly baked blueberry friand or a slice of golden goodness: the Sicilian lemon tart is sure to please. You can purchase a reusable glass keep cup to take home with you, or grab one as a last-minute gift. For a special occasion or a catch-up with family and friends, Clara Café's unique high tea arrives with all the trimmings, presenting a delicious selection of sweet and savoury bites on a three-tiered tea stand.
Joe's Garage
Joe's Garage in Silverdale is the perfect stop for everything from a quick coffee to a meal. With a relaxed vibe and great beats playing, it's an excellent spot any time of the day to catch up with friends and enjoy fantastic food and good service, while having a bit of fun. Enjoy the wide variety of offerings on the daytime or evening menu, including tons of brekkie options, fries, burgers, pizzas, rolls, salads, sweets, and a kids' menu, too. Furry friends are also welcome. Before you head home, grab a bag of freshly roasted Regular Joe coffee beans, or indulge in the rich flavour of Regular Joe's coffee anytime with coffee pods available for takeaway. Joe's Garage has partnered for over a decade with Kiwi brand Ozone Coffee Roasters to produce a specialty Joe's blend. You can even add a pop of colour to your wardrobe with a t-shirt from Joe's shop, featuring a range of fun slogans.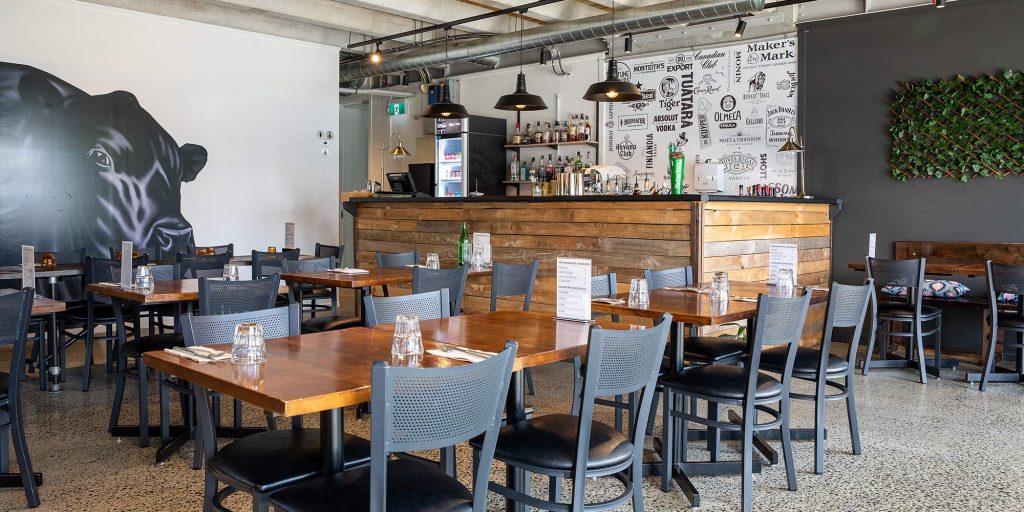 Miss Moonshines
Right near Milldale on Central Boulevard is an American slow BBQ joint with a Kiwi twist that is sure to please. Miss Moonshines is a haven for lovers of meat, craft beer, and all things wood smoked. Inspired by pit masters and street markets, the philosophy at Miss Moonshines focuses on the time-honoured tradition of the 'low n' slow' authentic American BBQ pit, paired with quality New Zealand free-range meats. The Yoder smoker on site was shipped in directly from Kansas and gives a unique smoky flavour to the fresh New Zealand produce served. The friendly team serves meals hot off the grill. Your taste buds will thank you.
Cheek and Chong
Savour a delicious mix of South East Asian fusion-style food, cocktails, and beach views at popular Ōrewa restaurant Cheek and Chong. It's perfectly placed, just over the road from the beach. An outdoor table is the ideal spot to soak in the coastal surroundings at this great dining location, and even enjoy a sunset with your meal. Feel like you are on your very own island getaway with the palm-filled interior with staff sporting colourful floral shirts. Sharing plates works well for groups of varying sizes, while an extensive cocktail menu begs to be worked through, or enjoy craft beer Boundary Road Brewery on tap. Choose food from the all-day menu or one of the set menus, including a delicious wagyu beef steam bun, or the red duck and kūmara curry. Why not start or end your meal at Cheek and Chong with a relaxing beach-side stroll.
Kawau Bay Kitchen
Another of the excellent food offerings on the main promenade right opposite Ōrewa beach, Kawau Bay Kitchen provides brunch, lunch and dinner featuring fresh seasonal ingredients and local organic produce. The stunning seaside setting and friendly service provide the perfect backdrop for a delicious meal, such as the ever-popular smoked kahawai and creme fraiche bagel served with pickled fennel and capers. Choose from shared plates, with gluten-free and vegan options available, or gather a group for the set-priced Bottomless Bubbles Brunch, held on the first Saturday of each month. New Zealand beer and wine are celebrated at Kawau Bay Kitchen with a great range on offer, originating from Central Otago to Northland. If you're after a caffeine hit, the coffee machine is at the ready with Supreme Coffee served. Special event bookings are welcome, or join the Kawau Bay Kitchen Wine Club for a great time to get together with friends and meet like-minded people for an enjoyable fun-filled evening.
Tasca Beach Restaurant
Handily located in nearby Ōrewa, Tasca Beach is a café, restaurant and tapas bar serving up a taste of Spain. Inspired by the traditional and authentic back street tapas bars of Spain, Tasca provides a welcoming and comfortable local eatery experience, big on ambience and tasty food. Offering a bit of European charm and a foodie escape, daytime dining options, tapas, or dinner are all on the menu. Select from a range of breakfast, brunch, and lunch options, including Spanish-style omelettes and pizzas, and traditional Spanish tapas bites. Why not grab a few sweet or savoury goodies from the counter cabinet to take home to enjoy later. The dinner menu offers plenty to enjoy, from classic Patatas Bravas to a variety of quesadillas, traditional Spanish meatball dishes, and seafood, plus vegetarian and vegan options. Don't miss Tasca Cordero, the slow-roasted lamb shoulder – Tasca's signature dish. It would be difficult to end the night without sampling a few Churros dipped in hot chocolate sauce.
Dear Coasties
With a cult following, locals love the attentive service, spot-on coffee, and mouth-watering array of cabinet food at Dear Coasties coffee bar and eatery in Ōrewa. It's the café to visit for some of the best insta-worthy food on the coast, with a goodness overload stacked on the counter including mouth-watering cupcakes and doughnuts. The food tastes as good as it looks, with an adventurous menu including options like kimchi pancakes, soft-shell crab Benedict, and vegan banana peanut butter cupcakes. The smashed avocado breakfast is always popular, as is Dear Coasties' signature dish, the mushroom quinoa rosti stack. If you're in the mood for a bagel, the team has you covered with some great options from Best Ugly Bagels on the menu. When it comes to drinks, enjoy attentive service and spot-on coffee, plus a wide variety of plant lattes and smoothies. There's often a queue to grab a spot to dine in or enjoy delicious offerings from the cabinet to grab and go. Dear Coasties is dog friendly, with covered outdoor seating for all weather conditions.
Tent Café
A whimsically designed spot to dine in the heart of nearby Ōrewa, The Tent Café is perfect for a casual meal. Along with its soaring circular canvas tent design, The Tent features large windows right around the restaurant that let in plenty of beautiful sunlight. The café interior is just as bright, with yellow chairs, pretty hanging plants, and plenty of delicious options to select from. There is a broad range of breakfast offerings and meals, including eggs, pancakes, granola, bagels, toasted sandwiches, and vegan meals too. Fill up on a burger, or select a few smaller plates to share with your group. Delicious counter food is also on offer, or try something different from the menu, like the chilli eggs. The relaxing atmosphere, generously sized portions, and attentive staff mean The Tent is always a popular spot with locals.