Life by the coast
Our Milldale homes bring sophisticated architectural design to you, with considered layouts, quality materials, stylish finishings, and our decades of build experience leaving you to enjoy life by the coast. Milldale is handily located with easy access to all the amenities required for a busy urban life. Savour the local lifestyle, with plenty of local parks and a plethora of nearby beaches bringing all the pleasures of the outdoors right to your doorstep.
When it comes to outdoor relaxation, Milldale provides an idyllic setting to relax and enjoy time with family and friends. Milldale playground is located on Archibald Drive, with swings, slides, climbing nets, a pump track, and much more. Right beside the playground there's a large field to kick a ball around, fly a kite, or enjoy a picnic in the shade of one of the established trees in the vicinity. Head to Ahutoetoe Rd, and enjoy the beautiful tree lined reserve that borders the Weiti Stream. In the planning, Waterloo Reserve in Milldale will offer plenty of space to relax, stroll, run and play amongst grassy areas and native plantings, near the gentle flow of Waterloo Creek. This reserve will offer a playground, pump track, basketball half-court, sheltered seating, and open flexible grassed areas.
The reserve is designed to be a hub at the centre of three stages of the Milldale build development, bordered by Milldale's first Neighbourhood Centre with a suite of shops, and an easy walk from Milldale Primary School. It's just a short cycle or drive from Milldale to the many beaches of the Hibiscus Coast, including beautiful Ōrewa beach, Red Beach, or your choice of 11 Whangaparaoa beaches plus iconic Shakespear Regional Park at the end of the peninsula. Nearby Te Ara Tahuna Estuary Cycleway and Walkway offers a scenic loop for walking furry friends, family bike rides, or a weekend waterside stroll with friends. Northwards, the popular beaches of Waiwera and Wenderholm beckon.
A handy location
Getting to and from Milldale is simple, with its handy location ensuring it's well connected with both the north and south. Easy access to the northern motorway and public transport options too offers maximum convenience for commuters. Select the Silverdale interchange and Pine Valley Road from the south, or arrive via the Millwater interchange on the Wainui Road, from the north.
A brand new electric bus service connects Milldale with the Hibiscus Coast Station in Silverdale, right by the motorway. It runs seven days a week, every 30 minutes throughout the day. The Coast area offers a huge range of excellent bike rides, from those out for a relaxed ride or a cycle with the kids, to those focussed on clocking up some serious kilometres.
Milldale's Vision
Universal Homes is pleased to work in this area once again, after building a successful series of architecturally designed homes in a variety of typologies in nearby Millwater and Red Beach which sold out swiftly. We are proud to partner with Fulton Hogan Land Development, who are developing this large-scale area for the residential sector. We've recently developed Millwater with Fulton Hogan, producing a well-planned and thoughtfully considered environment for communities to live, work and play in as they enjoy the best of a modern lifestyle.
Since its launch in 2019, Milldale has led residential development in a number of key respects, including a commitment to sustainable infrastructure. Future-proof water and wastewater tank systems, plus dedicated roading including new bridges to neighbouring amenities, are just a few aspects of this. A planned bridge crossing the motorway and linking Milldale with Millwater through Highgate Business Park, will become a handy connection to the wide range of amenities this growing area has to offer.
At a key gathering point within this growing community, Milldale's first Neighbourhood Centre comprising a handy range of shops is set to be completed in early 2024. This will be situated at the junction of Waterloo Reserve and Henry Tayler Rise. With a residential population reaching approximately 15,000 and a large construction workforce growing by the day, the centre will provide convenience and essential services right in Milldale.
Shopping and entertainment
Milldale life means you're just minutes from shopping and entertainment. Growing retail, dining, medical, recreational and educational facilities are nearby, including close proximity to the new Highgate Business Park, Silverdale Retail Centre, Silverdale Mall, Silverdale Medical Centre, Silverdale Village and Market, and a selection of large format retail.
When it comes to sports, the tee beckons for a round of golf at Wainui Golf Club, or enjoy athletics, surf lifesaving training, netball, football, cricket, tennis, or rugby at the many nearby clubs. Northern Arena Gym and Swim Centre, Snowplanet, and the Silverdale Adventure Park are just moments away. Millwater Sports Grounds at Metro Park are right here, with a kayak launch spot nearby too.
Educational opportunities
Milldale residents are in zone for several great public schooling options, with private schools also available. There's brand new Ahutoetoe Primary School in Milldale, or nearby Silverdale Primary School, Stella Maris Catholic Primary School, and Kingsway Primary School. Ōrewa College and Kingsway College provide high school options nearby for residents.
Secure your spot at Milldale, offering easy access to all the amenities a busy urban life demands, all right here in your own backyard.
---
Spoilt for Choice at Milldale
With no shortage of recreational activities within easy reach of Milldale, residents are spoilt for choice when it comes to lifestyle offerings by the coast.
On the Menu at Milldale
Select from a range of eateries, from cafés to bakeries to diners, BBQ joints, or beachside restaurants – there's a mouth-watering offering for every diner.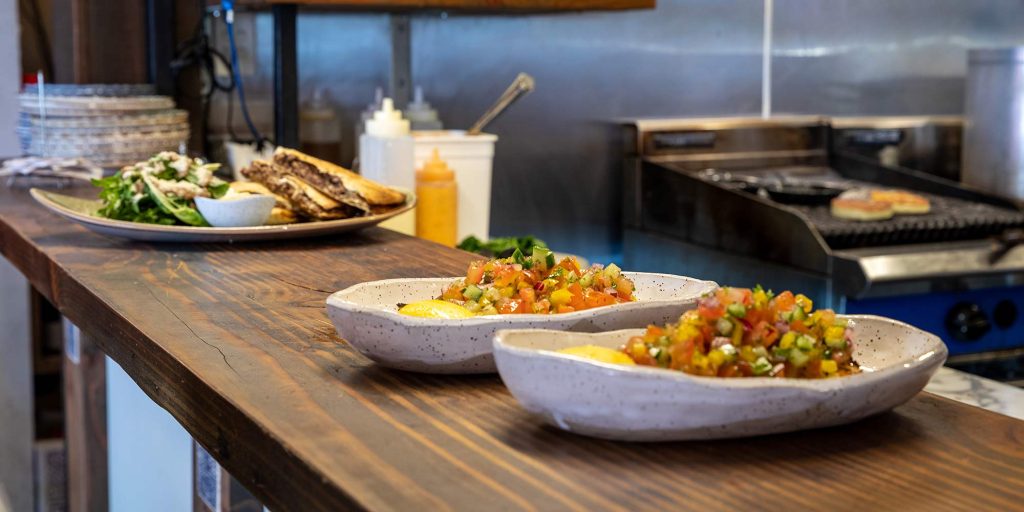 The History of Milldale
For most of its recent history, the Milldale area was rural farmland. Situated in Rodney District, west of Silverdale, the area has a rich history.